What happens when our team is faced with a downsizing challenge? We get creative!!!
Late last year, we had a project where we were hired to clear out the estate of a retired UNC math professor. As soon as we took a step into his home, his love of reading, collecting, and repairing books was more than obvious. His home had an extensive book collection – our guess is probably about 12,000.
Our Book Buy Out Specialist
Before considering other resources for this collection – we invited a professional book expert and reseller to comb through the shelves, pick the titles he wanted, and then give a fair cash offer to our client. This is what we call a buy-out.
Then we spent hours boxing up the remaining books to prepare them to be donated, only to discover that at that particular time because of the volume coming into non-profits due to COVID, the donation sites that we regularly use would not take more than 5 boxes of books per visit.
We donated the allowed amount at various locations but needed to come up with a new solution for the almost 300 boxes that were left behind. Our client needed the home to be completely emptied to prepare it to for sale and our company storage did not have enough space to temporarily store this many book boxes. We needed a new plan of attack!
One of our downsizing specialists (that's me!) had a lightbulb moment (a Downsizer specialty!) and I volunteered my time and garage space to host a "reverse book drive" to rehome these books to as many book lovers as I could find and lure to my garage with the promise of "free books!"
After they were all delivered, I organized the boxes on the garage floor in long rows, leaving room for people to move about comfortably. I made sure the spines all faced upward for faster scanning of titles and also tried to group all the math books on one side of the garage to make it easier for people to find ones that appealed to them.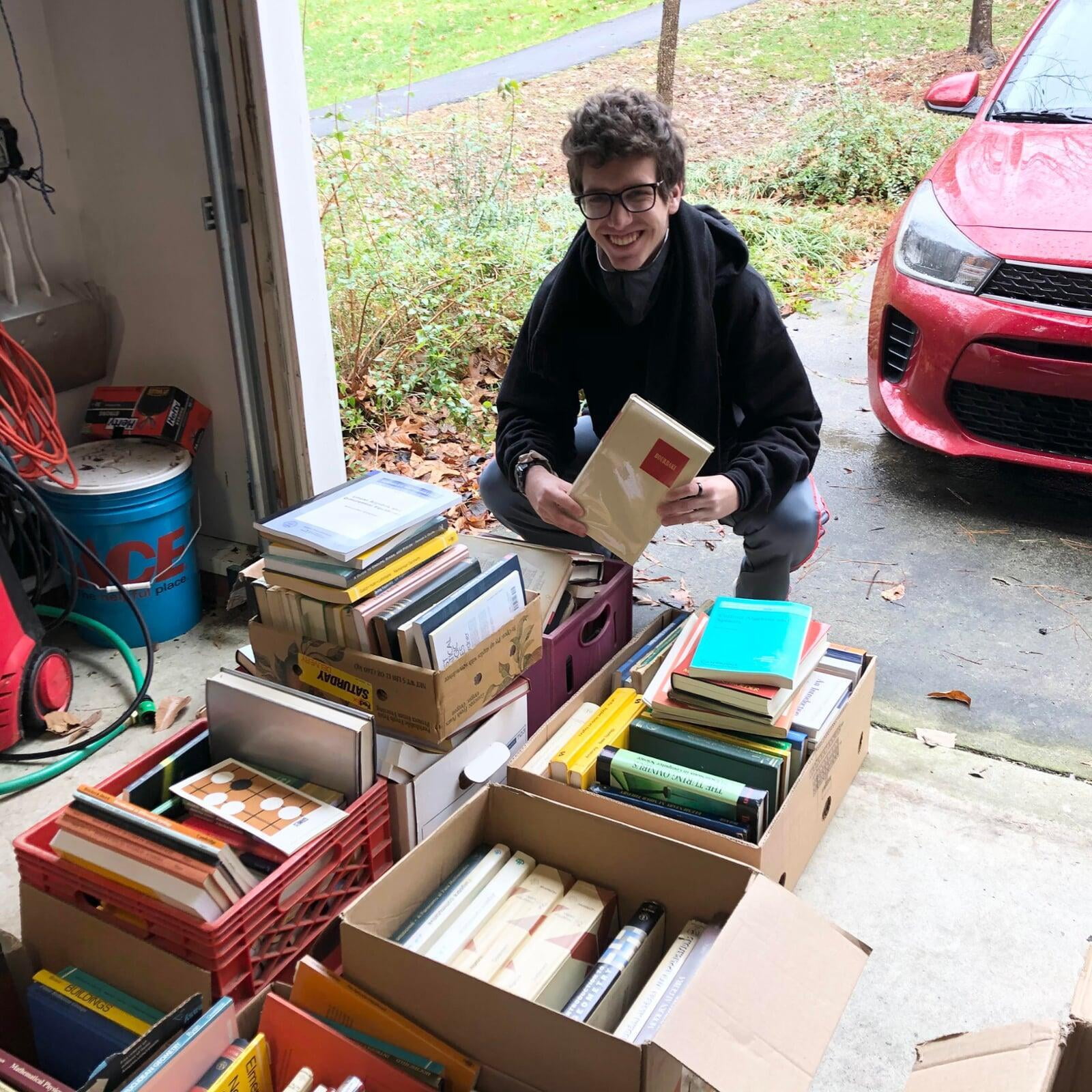 The Massive Math Book Collection
As a former homeschooling mom of 15+ years, I initially reached out to the local homeschooling community, hoping to find new owners for many of the math books. One of the homeschoolers connected us with their relative, Rob Sternquist. He is a high school senior at Enloe High School in Raleigh, in addition to also taking graduate level math classes at NC State. An impressive young man, to say the least! He aspires to one day be a mathematician like his grandfather and was excited at the opportunity to start building his own math library. It was such a pleasure hosting Rob and his family over to go through all the books and find those that spoke to them.
A Little Bit of Magic
In addition to the large math book collection, there was also a fair number of boxes with contents devoted to learning about the performance art of magic. We thought it would be best to reach out to a local magic club (https://raleighmagicclub.org/) to donate these items so that they could be enjoyed by many people for years to come.
Books Make Great Staging Tools
Among the many boxes, there were also many vintage editions with topics that no longer appealed to today's mainstream reader. My solution was to peel off the tattered dust jackets to expose hardback covers brimming with beautiful patina that come in many colors with gorgeous lettering detail. These books looked stunning when on display and were perfect to be used for shelf styling. I donated some boxes to a local home staging company (https://firstimpressionhomestaging.com/) as well as more boxes to others who also wanted to liven up the vignettes in their own home décor.
The Neighborly Connection
I then promoted goodwill by inviting the neighbors all over to pick out interesting titles, offered up even more books on a local free swap group, as well as restocking a few local Little Free Libraries. (https://littlefreelibrary.org/) I found posting on NextDoor to be a great resource for finding those who love free books. (https://nextdoor.com/) Many thanks to all the people who came by and helped me achieve the goal of saving all the books!
The remainder of the boxes left after five days of rehoming were given to a very enthusiastic young man who plans to open a used bookstore in the Chapel Hill/Durham area. I wish him great success on his future endeavor.
I tried my best to honor our client's late father by finding new homes to cherish and enjoy the books he so enthusiastically collected over the years. It was a privilege to take on this endeavor! On behalf of bibliophiles everywhere! Through a lot of labor and creativity – and a little bit of luck, we dispersed these written treasures to many around the Triangle.